ATLANTA, GA, June 22, 2022 — Miller Zell is excited to celebrate the opening of our remodeled client collaboration space and Patio dining area, thereby providing upgraded experiences for clients and associates at our Atlanta headquarters, as well as adding to our sustainability initiatives.
The motivation for redesigning the client collaboration space — named the "Ray Room" — started with a desire to provide a great destination for clients while at Miller Zell's Atlanta headquarters. Clients visit Miller Zell to experience the diverse range of capabilities and end-to-end services for branded environments, so it seemed fitting to create a meeting room that was both comfortable and cutting-edge, one where conversations would be elevated, and innovative ideas would thrive.
"After touring our headquarters, we don't want to meet with clients in a typical conference room," said Tom Ertler, SVP and Creative Director, who led both the Ray Room and Patio renovations. "We want it to feel like a lounge at a great hotel, where there's energy and a spirit of innovation."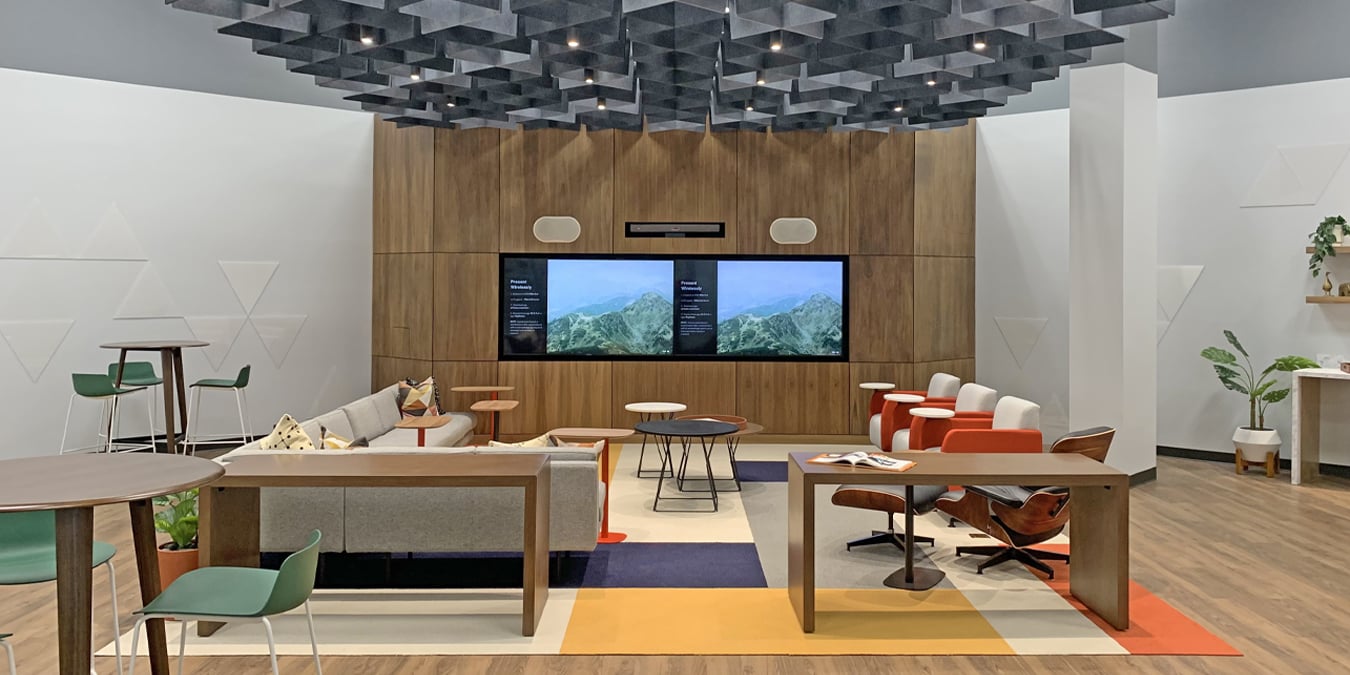 The room is named for Ray Eames, an artist and designer best known for her groundbreaking contributions to the fields of architecture, graphic design, film and furniture. Miller Zell conference rooms are named for people who made great but behind-the-scenes contributions to business and culture.
The Ray Room is flexible, as it can serve small groups or up to 30 people. It features two 85-inch digital screens for presentations or including off-site clients or associates in meetings, a 22-foot-long magnetic glass white board with moving panels, state-of-the-art lighting and catering areas for food and drink.
The Patio upgrade focused on adopting several new digital touchpoints, with digital menus and our interactive app for communicating food and drink offerings, ordering meals, payments and receiving preparation updates. These upgrades are consistent with our holistic, customer-focused thinking that we provide our QSR clients.
"It's completely cashless," Ertler said. "You review the menu and order from your desk and get an alert when your food is ready."
On the less high-tech side, the Patio also added to our sustainability efforts by focusing on adopting fully compostable packaging, containers and utensils.
In total, these initiatives bolster our support for clients, associates and our community, which speaks to Miller Zell's core values.
We are always happy to host clients at our headquarters, whether for a bite to eat or a meeting. The Ray Room, in fact, can be booked by our clients if they need a meeting space, even without us attending.