Retail Evolving

℠

: The Global Wellness Economy is healthy and growing.
The blossoming interest and willingness to prioritize personal health means abundant opportunities for health to adopt retail innovations.



Let's consider how health and wellness has changed in the past 24 months. It's no secret that healthcare costs are skyrocketing. As a result, consumers have realized that their health care has a direct consequence on discretionary spend. Today, consumers, businesses and even the government recognizes the benefit of proactive and preventative wellness.
We must also mention the impact of COVID-19 which put a spotlight on mental and physical health, driving increased consumer attention to personal health and wellness. Today, there is a highlighted need for people to live healthy lived focused on prevention. In fact, 71% of consumers say that protective needs are more important than in 2019[1].
The rise of health care consumerism sees consumers across a spectrum of health and wellness sub-categories seeking accessible, quality care in retail-like setting. The question now is how will the consumer-oriented health and wellness providers of the future respond to this heightened awareness, changing purchasing patterns and era of personal responsibility?
"Health and Wellness is now the single most powerful consumer force, as the full spectrum of consumers' well-being needs are reshaped as a result of the global pandemic[2]."
There is a very real "return to retail" opportunity as the in-store shopping experience continues to drive in-person business. Consumer counts are growing as are comparable stores sales while online sales growth is slowing[3].
Brick-and-Mortar Stores
Remain Important

Sources: Time.com, Forrester Research, NielsenIQ Global Health and Wellness Study




It's clear that people are seeking care and in-person care delivery in retail settings. Target, Ulta, Village Medical and Walgreens, Kohl's + Sephora and CVSHealth are simply a few of the retailers who are positioning themselves for explosive growth as Health becomes Retail.
So what will it take for health and wellness to be a winner in the retail environment? Check out our best practices for in-store health and wellness below.


Winning in Health Retail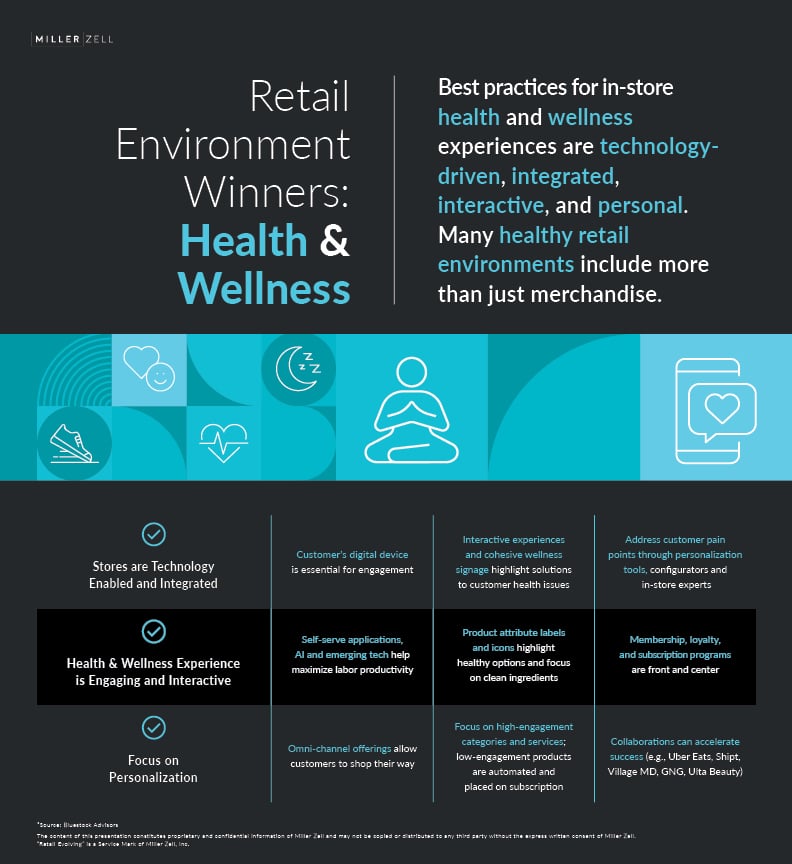 Click image above to enlarge and download


[1] Nielson, Jefferies, Spate, Healthline.com, Well + Good
[2]Nielson, November 2021
[3]Time.com, Forrester Research, NielsonIQ Global Health & Wellness Study
Tom Ertler is our Chief Creative Officer and focused on brand development, graphic communication, environment design, and implementation (A&E). Tom's career spans over 30 years and is distinguished by industry awards and, more importantly, industry results for some of the best-known brands in the world as well as emerging brands.
*SM "Retail Evolving" is a Service Mark of Miller Zell, Inc.