ATLANTA, July 2, 2019— Miller Zell and its partners earned a first-place award in the "Wall Treatment" category at the 2019 Shop! Design Awards last week in Chicago for its design work at the TD Bank branch in Boston's "Emerald Necklace" area on Boylston Street.
The project started when TD Bank asked Miller Zell to transform a 50-foot wall inside a new Boston branch to pay tribute to the Emerald Necklace park system near iconic Fenway Park. They wanted an artistic and informative focal point that would engage customers and they requested the use of natural, sustainable materials to honor their green practices commitment.
Using only sustainable materials, Miller Zell and ID3 Group designed a seamless, modular, multi-paneled map of the area made of Baltic birch that highlighted greenways, waterways and topography. The wall included contoured layers, and organic lichen was used to represent green spaces. The display also included supporting graphics that informed customers about the Necklace and its origins.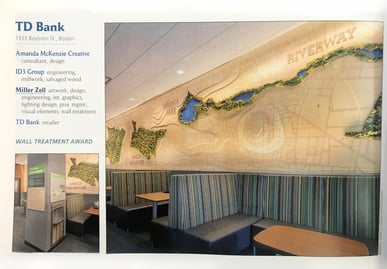 Under the guidance of vice president and design director Paul Wolski, Miller Zell created the artwork, design, graphics, visual elements and lighting and took the lead on engineering and project management.
Miller Zell partnered with Amanda McKenzie Creative (consultant, design) and ID3 Group (engineering, millwork, salvaged wood) to create the wall display, and Mark Steele provided photography