Retail is never easy. Challenges are simply different from one era to the next. But as we've said before, retailers who respond with purposeful innovation will continue to thrive, despite challenges, new and old.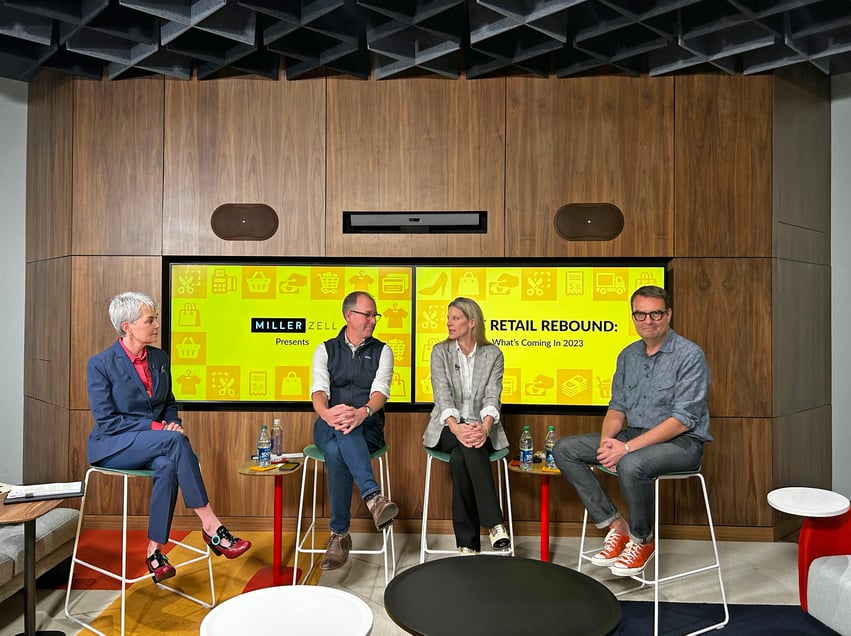 Retail Rebound: What's Coming in 2023 panel from left: Carol Spieckerman, moderator, and Michael Larkin, SVP National Accounts, Tina Chadwick, SVP of Strategy and Creative and Tom Ertler, Chief Creative Officer.

That was the overriding conclusion from Miller Zell's "Retail Rebound" event, a late-October panel looking ahead to 2023 and led by nationally recognized retail expert Carol Spieckerman.
"Despite all of the doomsday predictions that we've been hearing about retail, it turns out retailers have been pretty resilient," Spieckerman said during her introduction. "And the ones that have made it this far have rebounded from a lot of difficult situations."
Sharing the stage with Spieckerman were three Miller Zell thought leaders: Chief Creative Officer Tom Ertler, SVP – Strategy/Creative/Digital Tina Chadwick and SVP – Sales & National Accounts Michael Larkin.
Many topics were covered in just over an hour, including the right balance of customer experience vs. path to purchase efficiency; which tech is the right tech; smaller footprint, bigger impact; elevating the employee experience and retail media networks providing new revenue.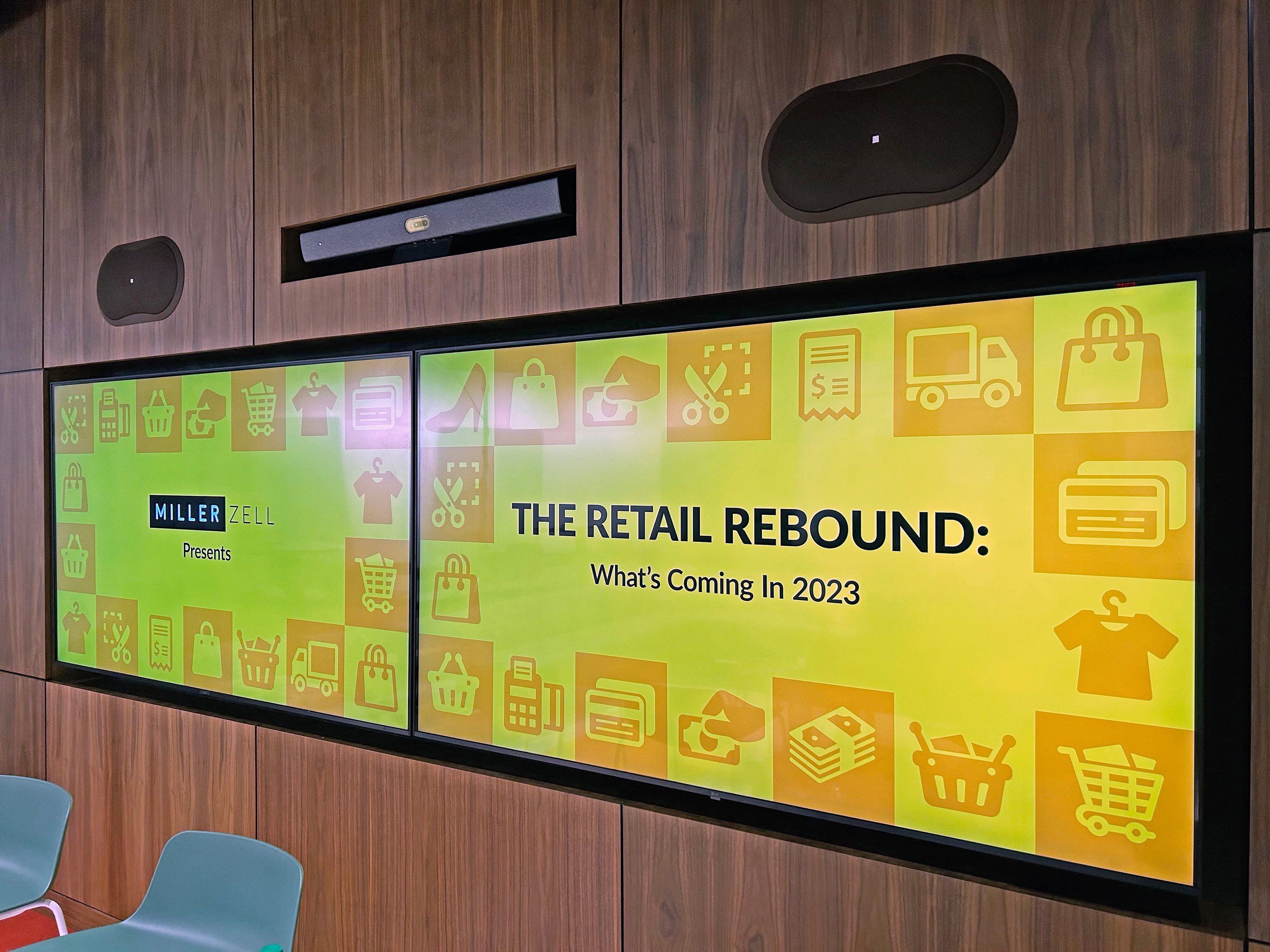 The Retail Rebound: Whats Coming in 2023.
The general sentiment that notably prevailed was not about a frenzied dash toward the latest innovative idea or technology. It was about a thoughtful process that engaged, evaluated and continually evolved, using strategy and insights to serve customers' wants and needs.
"[Clients] are like, 'We need a hologram!' And we're like, 'Slow your roll. Let's figure this out,'" Chadwick said. "Hold on. What's the business objective? Why are you getting in? If you do want to get in, put a toe in and have a little test and learn versus opening a major storefront."
Miller Zell previously hosted a forum with Metaverse expert Elizabeth Strickler. While it was fascinating, the general conclusion from Strickler — and Miller Zell — was that it was better to advance cautiously than go aggressively all in while the platform is still in its early, developmental stages.
"I do love the big ideas," Larkin said. "But I like to focus on the practical application and what kind of value it's going to drive for the client.
"Are you going to be able to create a deep connection with the brand experience? We try to focus on the practical application of these tools in these environments. What's rational? What makes sense and what's going to drive a particular response or action on the part of the audience that we're trying to connect with?"
This approach — strategic thinking governing "big ideas" — connected to many topics, including smaller store footprints and the rise of retail media.
Spieckerman wondered if brands needed to clearly communicate their intentions with new formats so their customers wouldn't be unpleasantly surprised by an environment that doesn't feel "on-brand," such as a restaurant that typically caters to sports fans who want to sit down and watch games adopting a small, almost exclusively to-go format.
And, Ertler noted, after testing the smaller format, then there's the issue of scale.
"What about the 100 stores you already have?" he said. "That's really challenging. How do you take that idea — one new store that was easy — and apply it cost effectively and efficiently in existing stores? We deal with that a lot. That, again, is not the big, glamorous challenge, but it's a huge challenge."
Same goes for retail media. When strategically leveraged, it can both serve customers and pay for itself. But it needs to be on-brand and continually managed, maintained and refreshed. It can engage the right customers at the right time. But it also can over-saturate and diminish an experience.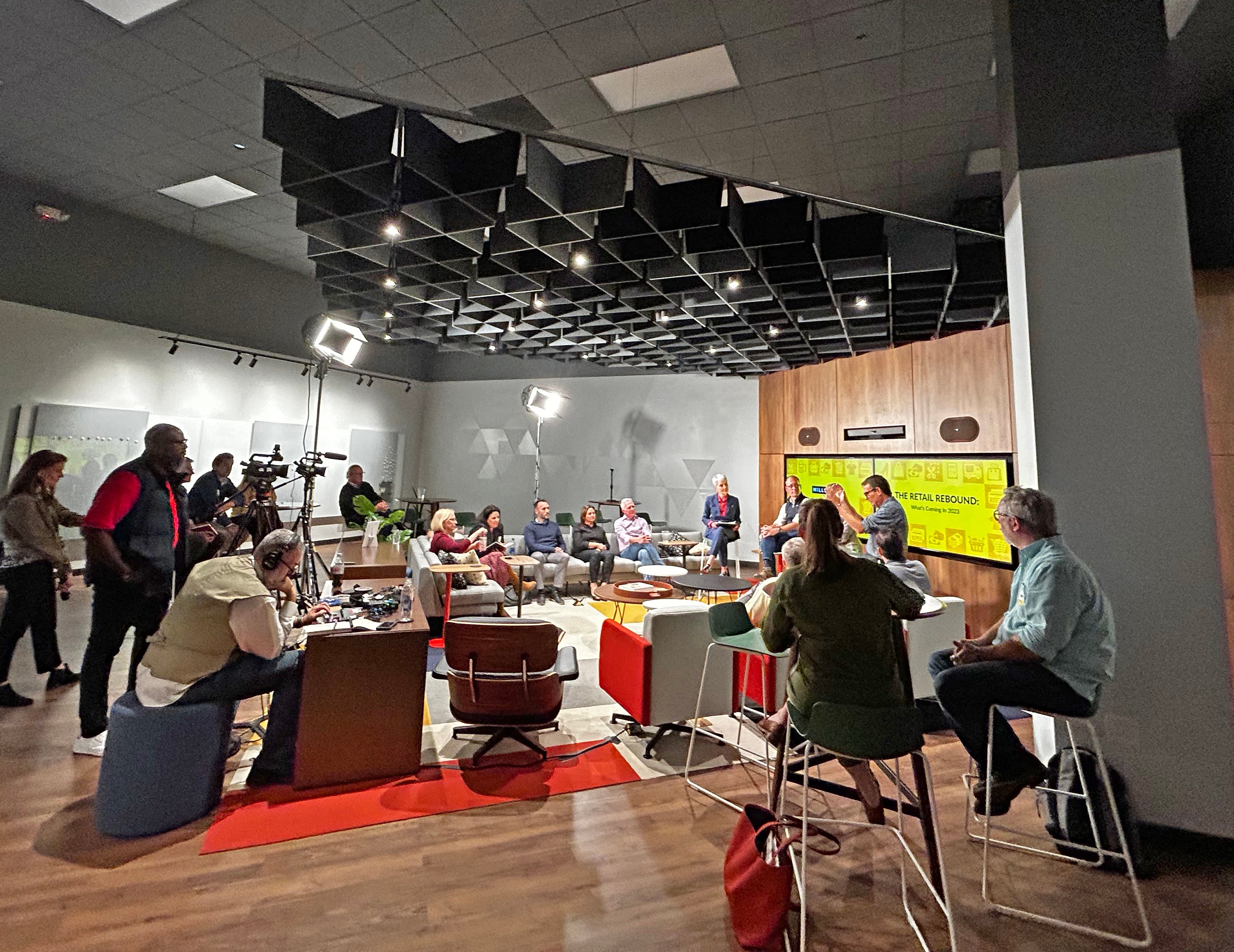 "Sometimes [clients] get fervent, 'Oh this makes money. Let's put six more screens up,'" Chadwick said. "And that's where you have to say that's not brand right. Then you must point out, 'You're cluttering the customer experience.'"
Strategic innovation means serving while not cluttering the customer experience. It also engages a critical component of store refreshes that intersects with the customer experience: the associate experience.
When new touchpoints, particularly digital ones, help manage inventory, operations, wayfinding, product location and assistance queues, the associates' jobs become easier and more satisfying. As in: happy customer, happy associate.
"I want to make sure when we're talking about the orchestration of employee involvement, it doesn't necessarily mean that they have to provide white-glove treatment," Chadwick said. "They just have to know the experience that we're trying to create with the brand."
As far as looking ahead in 2023, Ertler said he remained "bullish on the physical store," even with economic headwinds. Chadwick said she believed retailers and other business will continue to develop an authentic ESG — Environmental, Social & Governance — emphasis that a next generation of customers will expect and even demand.
As for Larkin, he believes Miller Zell won't vacillate from its nearly six-decade focus of seeking purposeful innovation that best serves our clients.
He said, "While big ideas are going to continue to be a significant part of the transformation of retail, we're also focused on driving efficiency on the back end. If you're going to invest in certain parts of the business and invest in that transformation, you need to double down on efficiency, not only in the development and execution but in other parts of the business."
So even though retail continuously changes, it also stays the same.