Shopping malls, even before the pandemic, were popularly believed to be dying out. But guess what's making a comeback? Consider this from a recent article from Retail Wire.
A study from Coresight Research found traffic at U.S. shopping malls has strongly recovered to surpass pre-COVID-19 levels. The research firm believes brands within malls are benefiting from the "halo effect" created by having both online and offline channels, "brand synergy" alongside other mall-based stores and being able to leverage omnichannel practices.
On the other hand, many shopping malls have closed over the last decade and probably will continue to do so.
What gives? Well, it's the same as the premature writing off of brick & mortar retail due to online growth. Bad retail and bad shopping malls will close. But retail innovators — note "brand synergy" and "leverage omnichannel practices" from above — find ways to evolve and meet and serve their customers wherever they are.
So, what can we learn from the thriving malls? Four points.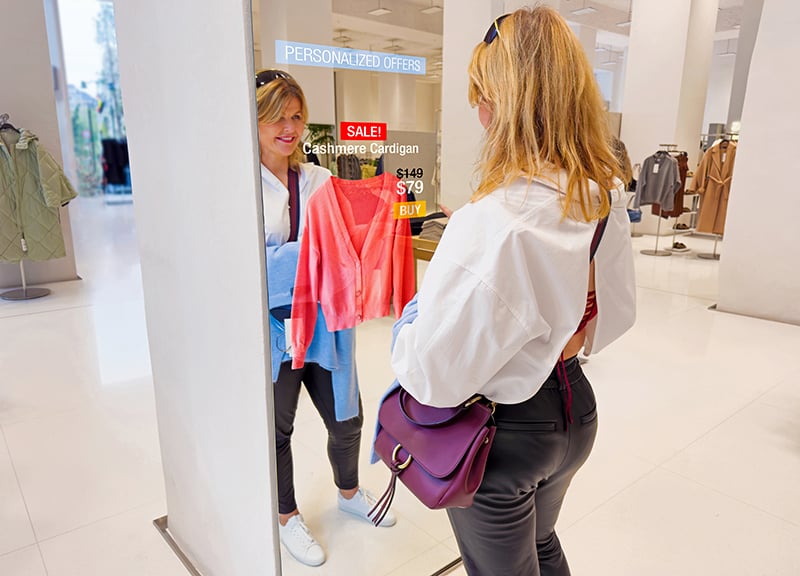 Create engaging customer experiences that can't be replicated online
Easy to type. Challenging to do. But it is the secret sauce.
Consider the Westfield Valley Fair mall just outside of Santa Clara, Calif., one of the malls recently profiled by the Wall Street Journal. Its $1.1 billion expansion and renovation in 2019 perhaps looked like a poorly timed business decision during the pandemic. But tenant sales were up 66% last year compared to pre-pandemic levels, and even non-retailers understand why.
"The mall is always packed," Santa Clara Mayor Lisa Gillmor told the Wall Street Journal. "They've really transformed that mall into something that's not only a shopping experience but an entertainment experience as well."
Malls that are thriving create spaces that are entertainment and social hubs as well as shopping destinations, and then they intertwine these experiences.
Interactive displays, augmented and virtual reality installations invite shoppers to engage with products and brands in new and exciting ways, which connect products with customers, build a relationship and inspire loyalty. Opt-in facial recognition technology and location-based services will personalize the shopping experience, offering tailored recommendations and promotions. You also can incorporate elements of gamification to make shopping more enjoyable, turning your mall into an entertainment center that appeals to all age groups.
Food and beverage offerings? Of course. But this also requires innovative thinking. It's not only about featuring a diverse array of dining options, from QSR to fine dining to diverse international cuisine. It's also about experiences, from free samples to cooking demonstrations to the integration of indoor and outdoor eating and dwelling areas and green spaces that offer a break from the crowds.
Further, build flexibility into the design of indoor and outdoor spaces.
Modular layouts can be reconfigured to accommodate changing tenant needs. They also can serve seasonal, popup and short-term offerings that reward regular customers with surprise and delight, as well as providing platforms for new and emerging brands to engage and create buzz. These multifunctional spaces also provide platforms for community events.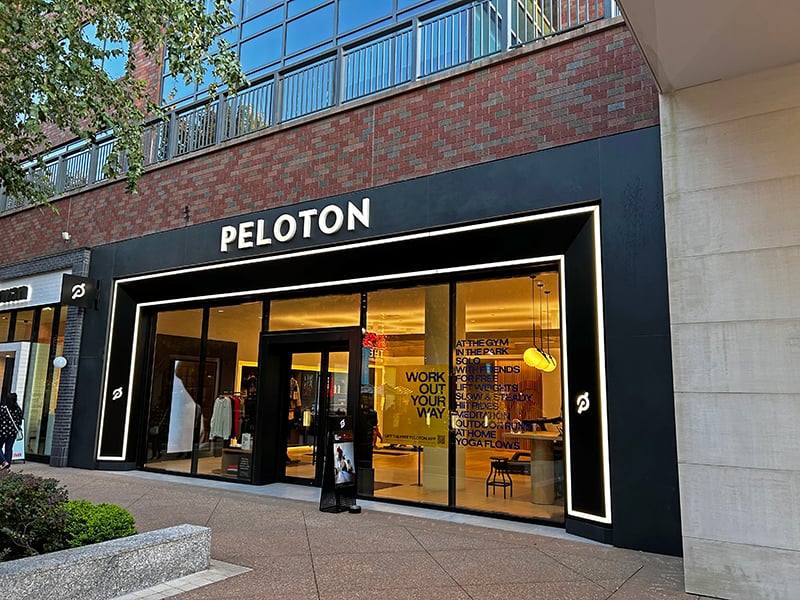 Omnichannel? Physical stores are critical partners for e-commerce
The advancement of omnichannel shopping is sometimes described as "blurred lines" between stores and online. 100 times no. The connections and intersections should be clear, to both your associates and your customers, wherever they are.
For one, physical stores provide an efficient solution as last-mile logistics hubs for e-commerce. According to a March press release from the National Retail Federation, 70% of e-commerce sales were fulfilled by stores.
As Brian Cornell, Target's CEO, said on his fourth-quarter analyst call, "Turning stores into fulfillment hubs was and still is the most efficient and least costly way to grow omnichannel sales."
This will influence store design going forward, and malls will serve as both physical retail spaces and logistical hubs for e-commerce operations. Shoppers will be able to order products online and pick them up at the mall or try out products in-store and have them shipped to their homes.
Augmented reality and virtual reality will enable shoppers to virtually "try on" clothing and accessories, bridging the gap between the digital and physical shopping experiences.
A new TV or large appliance might be a pain to go from store to parking lot to car. And that laborious journey might interfere with a casual mall lunch. So why not set up a home delivery time that is more convenient? This convergence of online and offline shopping will create a seamless and customer-focused retail ecosystem.
Further, updated mall environments provide purposeful landing spots for digitally native companies that want to open brick-and-mortar locations after reaching the limits of online customer acquisition.
A key point for this omnichannel partnership? The need for upgraded inventory management that provides real-time visibility on product availability and precise forecasting that accurately predicts both in-person and online demand and what that means for individual stores. This also touches store design, as space needs to be allocated to enable an effective flow of orders to be picked up and shipped.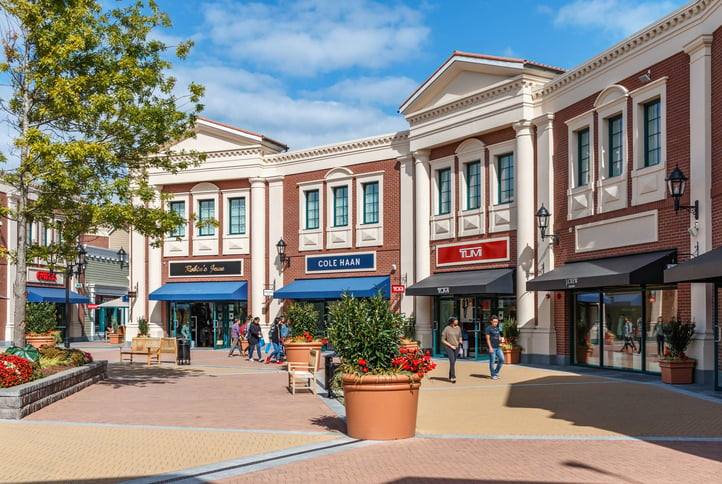 Customers prefer open-air malls
The post-pandemic lifestyle shifts included migration to the first ring of the suburbs and a preferred hybrid work pattern.
That's produced an increased flow of shoppers to "Open-Air Lifestyle Centers," a pattern that started before the pandemic. While it's a mistake to overstate the flow away from urban shopping, which has grown 3.0% this year, the open-air format appeals to today's customers — urban and suburban. Over 85% of 2023 planned openings favor open-air formats, according to BofA Global Research.
Open-air centers offer lower costs of occupancy, reduced operating costs, increased visibility, a better customer proximity and increased event/entertainment possibilities.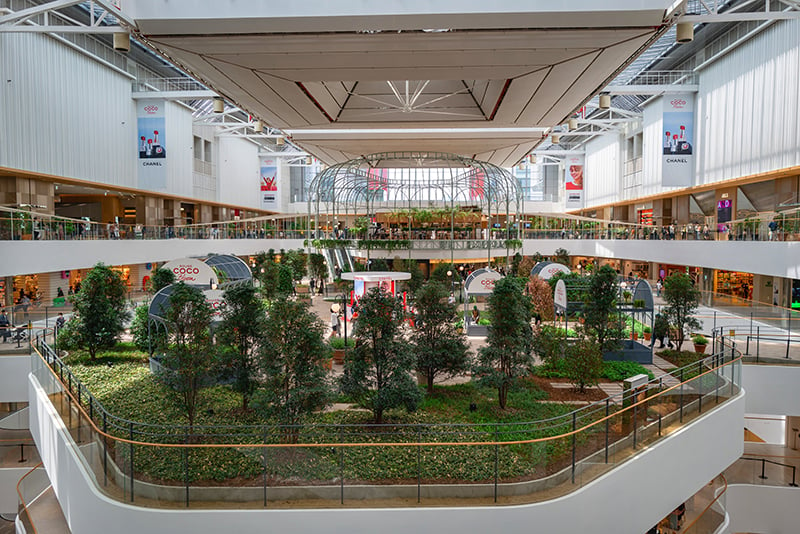 Open air? It sounds more eco-friendly… and it is
Every aspect of new retail design should lean into a commitment to sustainability. Not only because it's the right thing to do, it's also because your customers value that commitment, and many will shop elsewhere if they feel you are not fully pursuing it.
The good news is investments in sustainable retail design will pay off down the road. This includes energy-efficient lighting and HVAC systems, the use of renewable energy sources like solar panels and the incorporation of green building materials.
Details matter, too. Vertical gardens and living walls upgrade aesthetic appeal but also offer air-purifying qualities. Smart lighting and climate control systems will adapt to shopper preferences in real time, creating a more comfortable and energy-efficient environment. And how can recycling be made easier for both merchants and shoppers?
This is the future. Technological integration will be seamless and pervasive, sustainable and more effective.
Malls are just like any other commercial enterprise in our rapidly evolving age. They need to innovate in purposeful ways to serve and delight their customers.