The idea began casually enough at Miller Zell's Atlanta headquarters. Someone noted that a good number of "stores of the future" and "lab stores" had opened in Columbus, Ohio over the last three or so years.
"Store tour?" someone else asked.
Retail innovation is a core principal at Miller Zell, and purposeful research keeps us ahead of our competitors. Seeing firsthand what works and what doesn't helps us anticipate what's next. Building these insights into our innovative designs and successful rollouts is critical work for our clients.
So a team of Miller Zell associates ventured forth to check out the brick & mortar innovation going on in this midwestern retail hub, particularly at and around the Polaris and Easton malls.
We found plenty to like: Pleasant, accommodating associates who were clearly proud of their stores; uncluttered, thoughtful and creative merchandising that showcased brands at their best; and an emphasis on personalization and experiences within quirky, custom environments.
And, of course, there was plenty of yuck, including digital screens poorly placed and sometimes not functioning, store designs from the 1990s and overcrowded shelves that seemed to shrug and say, "sigh… wanna buy some… stuff?"
There were a number of highlights experienced by our team – some well covered in the press and a couple of surprise nuggets. In the spirit of celebrating outstanding retail environments that prioritize the customer experience, here's what stood out to our retail experts.
Shinola: When you combine a good backstory, a well-designed store, cool products and great store associates, you inspire customers to buy and to return. Shinola, a Detroit-based luxury design brand that makes a variety of products -- from timepieces to leather goods to jewelry to audio -- cultivates a treasure-hunt feel, where you're at one moment admiring an old-school turntable and, at another, coveting a fancy watch. The store offers immediate personalization of purchased items, which several MZ associates took advantage of. Further, the store's design brought the shopper behind the scenes to both witness and participate in the personalization process. The customization made collaboration part of the customer experience, better connecting shopper to brand. Finally, the store associate was friendly and knowledgeable, showing pride in the Shinola brand as he told its story. If retailers can create complete and enthusiastic buy-in with their associates that will be reflected in sales.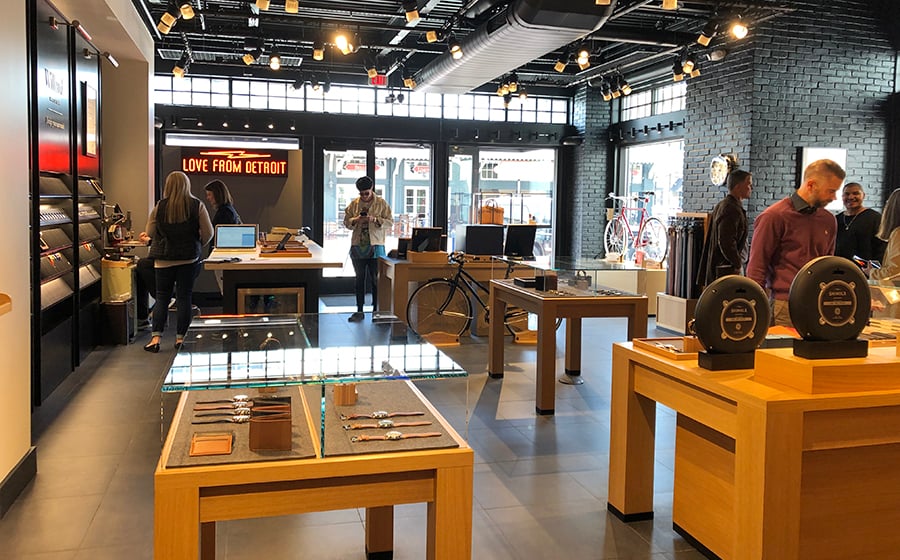 Joann: The possibilities are endless when a retailer thinks about the services it can provide outside of traditional transactions. The "Creator's Studio" at Joann is great example of a store becoming a part of its community in addition to a retail location. This well-designed, expansive space could serve as a gathering place for customers taking classes or as a meeting space for themed events, such as birthday parties. Or even as a comfortable, impromptu work space. Joann, a crafting and fabric store whose merchandising can sometimes feel overcrowded, stepped out of its comfort zone to take a more upscale, engaged, experiential approach. This store showcased an extremely large number of skus in a thoughtful, clean, logical way. They've taken what could be viewed as a commodity-type product easily purchased online and elevated it with their in-store experience.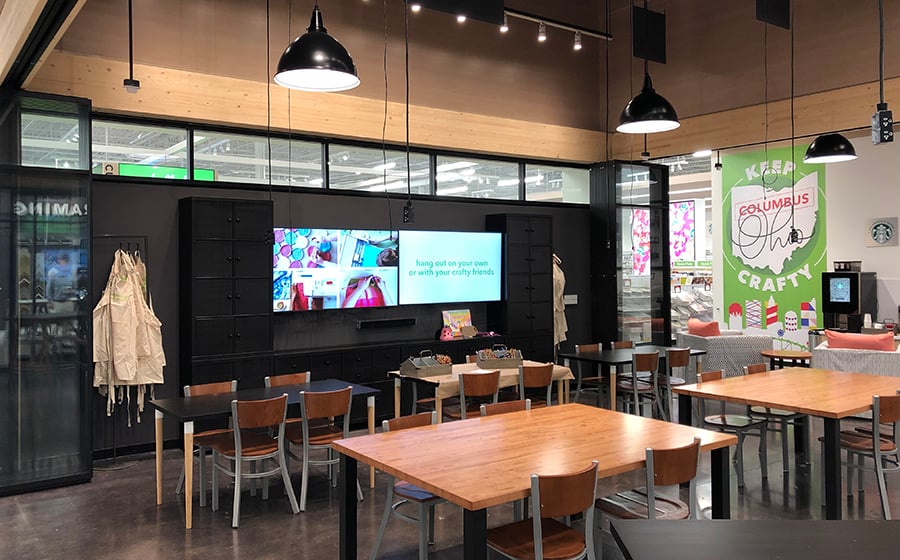 Indochino: This store made the men in our group want to start wearing suits again. Indochino, which offers affordable custom-made shirts and suits, is an excellent execution by a former direct-to-consumer brand that understood the need for an outstanding brick-&-mortar experience to expand its reach. It also understood it could undertake a store design unburdened by what was done in the past by legacy men's apparel retailers. And, just like Casper and Warby Parker did with mattresses and glasses, Indochino is disrupting an overpriced industry by offering the same quality at exponentially lower prices. Critically, however, the savings didn't reduce the customer experience. The fabric displays were well-thought-out, with a clean look that created a sense of customized luxury, allowing customers to fully experience the available materials. Instead of hiding the process, the store engaged all the senses, inspiring a desire to browse and imagine the sartorial possibilities, while encouraging customers to see and feel the colors, patterns and fabrics that could be transformed into a tailor-made suits. Moreover, the sales associate demonstrated genial expertise, advocating for the brand by explaining not only its "how" but also its "why."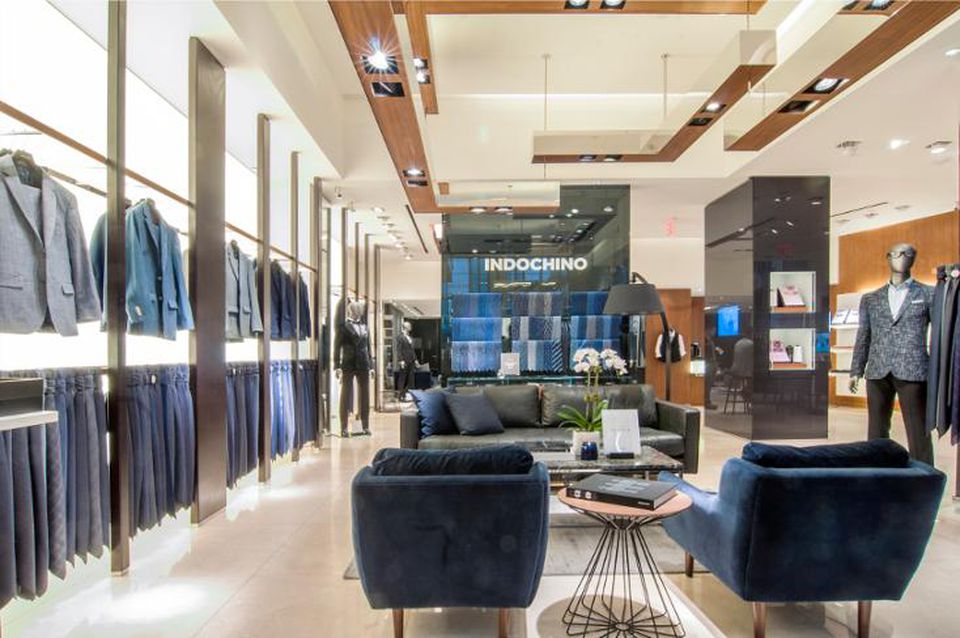 Filson: A Miller Zell visitor noted, "We were invited to sit and have a whiskey. What could be wrong with that?" Another went a step further, pointing out that our crew was drawn into the store by a stunning, oversized fabric graphic at the entryway. Filson, a Seattle-based outfitter and manufacturer of goods for outdoor enthusiasts, scored with a warm, inviting environment featuring unique products and displays, not to mention a personable store manager. The merchandising encouraged browsing and discovery and created a brand vibe that blended the rugged outdoors with a sense of luxury. There were comfortable places to sit and interesting coffee table books to flip through. The mountain lodge feel made it hard to leave and subtly suggested that a purchase might make your next outdoor experience more deeply satisfying.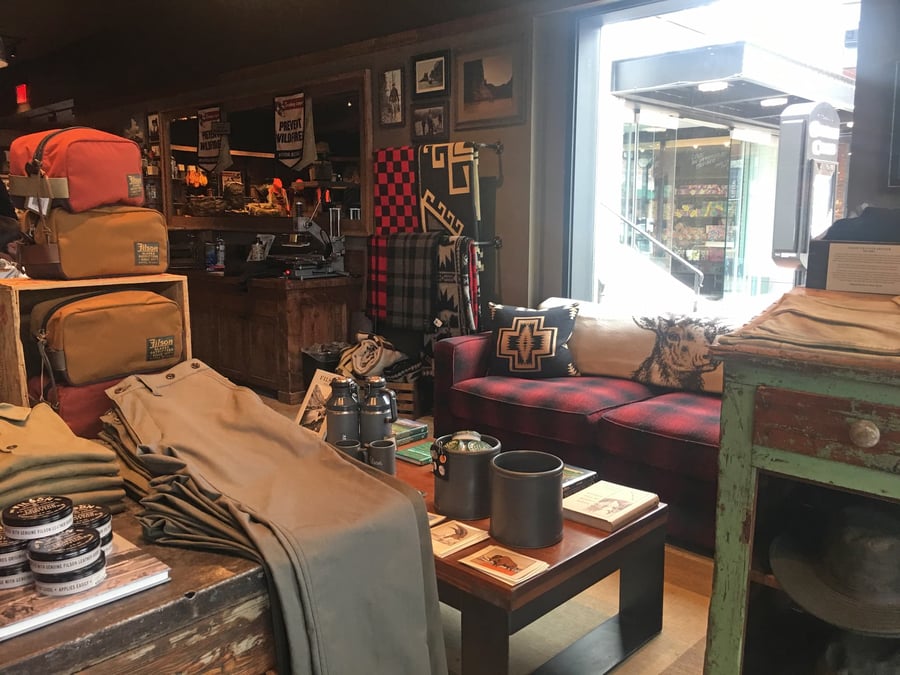 Dick's Sporting Goods: This was a BIG store at Polaris, but it was easy to navigate and thoroughly updated. One small feature made a big impression with a runner in our group: adjacent to the running shoe area were postings for local 10Ks and other races as well as information on local running groups and clubs. This established a sense of community as an extension of localization — the sort of effort that creates brand loyalty with a "hometown partner." The fixture was well-integrated into the shoe area, so it felt like a part of the experience rather than an afterthought.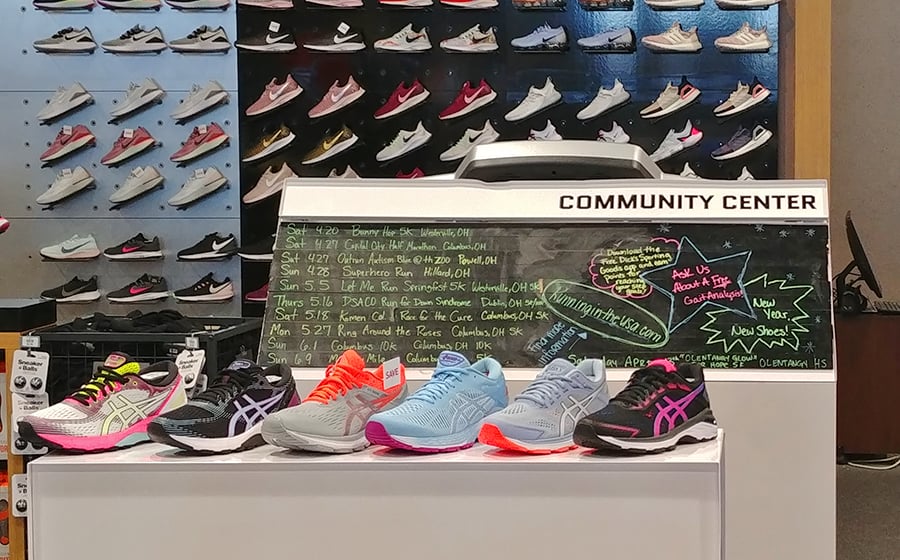 Duluth Trading Company: This apparel brand, perhaps best known of late for its humorous commercials that build on solid catalog performance, unapologetically expresses its personality with both temporary and permanent signing. Duluth Trading embraces irreverence — "The Cure for Crouch Ouch!" and "How Much Hairy Leg You Wanna Show?" — and blends it with a blue-collar mentality and an insistence on quality. As the seasons and customer needs change, the store switches out the old signage, which ensures the jokes don't get old. Meanwhile, the permanent fixtures and signage maintain clear communication of the brand's culture and customer connection.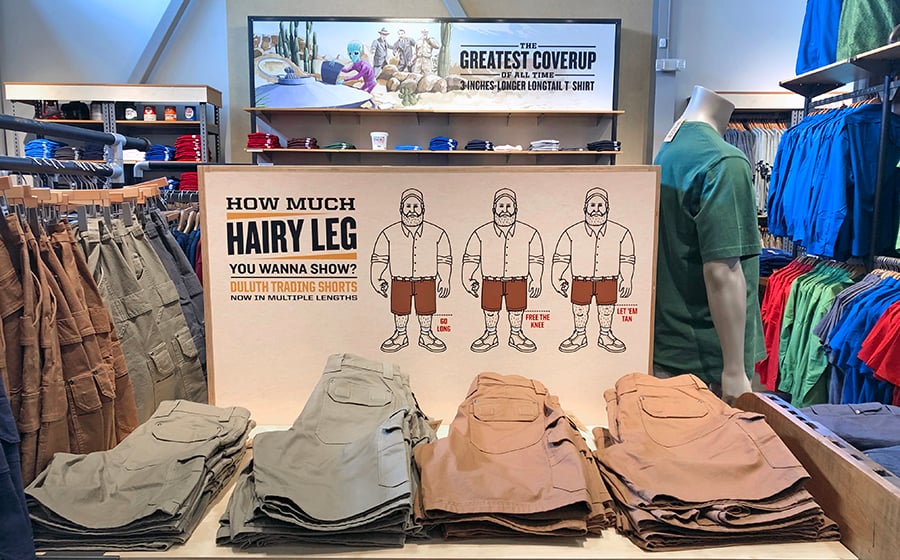 Lush: Lush is two things. One, it sells handmade, vegetarian cosmetics and soap. And, second, it's socially aware, celebrating its values perhaps even more than its products. It stands for charity and sustainability and against animal testing. You'll know this because it's written in big letters all over its walls surrounding its product cases. Lush believes that customers who share its values will be loyal, and there's plenty of evidence to support that assumption. There also was full associate buy-in, as they enthusiastically engaged customers with both background and product information. Well-designed in-store wash basins allowed customers to experience Lush products, which inspired more than a few, "Wow. Now I get it!" moments.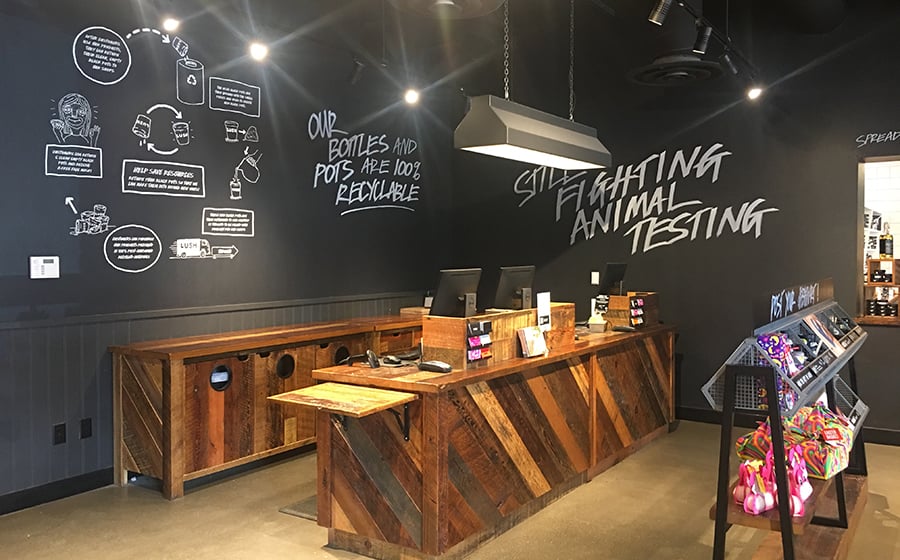 Future of Design: A surprise entry in our listing is the Future of Design. This start-up, three-location retailer isn't a major chain, but was a standout in meeting its shoppers wherever they are. The store combined an interesting idea with a sleek, modern looking design that guided customers through the process of creating custom, logoed apparel. One wall included simple instructions, while another included social media reviews. Another used large lettering to direct customers to the website. This retailer is clearly digitally converged and is a great example of providing the right goods and services through bricks or clicks.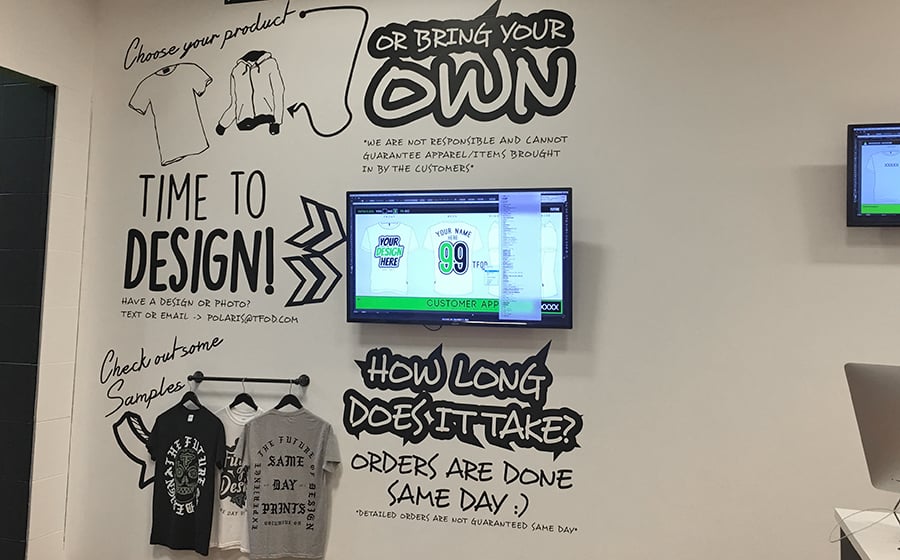 This store tour only reinforced our belief in the importance of an obsessive focus on customer-centric retail innovation. Our goals were met as we talked afterwards about what worked and what didn't and then projected forward toward what's next for digitally converged brick-and-mortar stores. We will strategically build on our experiences and evolving ideas and share our insights with our client partners.
If you're interested in participating in our chat, drop us a line. We're always eager to discuss innovative retail solutions.