How Do Retailers Meet the Expectations of Multiple Generations?
How Do Retailers Meet the Expectations of Multiple Generations?
Millennials are now the largest adult generation in the United States, but Baby Boomers possess more than half of household wealth. Yet Generation Z is entering adulthood and it will be the best educated and most diverse generation yet.
And Gen-Z is going to be big. It's 86 million strong and it is expected to represent 40 percent of all shoppers starting in 2020. It currently influences $600 billion of family spending, according to USA Today and Engagement Labs.
Most retailers keep up with generational data and apply it to their strategy. Most know different generations shop differently. Most will be fascinated by the information-packed info-graphic at the end of this story (but keep reading -- you'll get there soon!).
Yet nimbly and strategically interpreting granular data into specific in-store strategy is where retailers are most challenged. While it's impossible to be All Retailers to All Generations, it's important to design customer experiences to meet your shoppers wherever they are.
That means three things: 1. Know thyself; 2. Know thy customer; 3. Anticipate where thy future self and future customer shall meet.
That means recognizing that Generation Z makes up 27.68 percent of the U.S. population (327.2 million in 2018) compared to 22.18 percent for Baby Boomers, 20 percent for Gen X and 22.03 percent for Millennials (Statista.com).
Gen Z is future.
But present concentrations of wealth by generation can't be ignored, either. Baby Boomers account for 57 percent of $150K-plus household incomes and 56 percent of $1 million-plus net worth. Oft-discussed Millennials account for just two percent for each of those wealth measures, while Gen X represent 24 percent of the $150K-plus household incomes and 20 percent of $1 million-plus net worth (MarketingCharts).
Or you can look at the median family income by generation (Pew Research):
Baby Boomers

: $77,600

Generation X

: $85,800

Millennials

: $69,000
While the growth of eCommerce over the past decade-plus surprises no one, the importance of brick-and-mortar stores to all generations – most particularly younger ones – should remind retailers to make their customer journeys about the harmonic integration of channels, not silos
.
Survey after survey shows this:
81% of Gen Z prefers to shop in stores, and 73% like to discover new products in stores, according to a survey by A.T. Kearney (

per CNBC).

43% of Millennials and Gen Zers are likely to do more in-store shopping this year than online shopping, compared with 29% of Gen Xers and only 13% of Baby Boomers, according to Oracle NetSuite (

Per Value Penguin

)
67 % of Gen-Z shop in brick-and-mortar stores "most of the time"

;

31 % of Gen-Z shop in brick-and-mortar stores "some of the time,"

according to IBM Institute for Business Value (

National Retail Federation

)
62 % of Baby Boomers

prefer to shop in brick-and-mortar stores

.
Yet here's a moment to pause. For one, every survey produces different numbers, even if the conclusions are similar.
For example, a Colloquy survey as reported by Salesfloor said that 84 percent of Boomers expressed a preference to shop in-store. While the Colloquy survey also noted that Boomers spend a lot of time doing product and store research online, 67 percent prefer to make a purchase in a store.
Does that run counter to the notion that only 13 percent of Boomers said they will do more online shopping than in-store shopping? Or is the salient point that Boomers have more disposable income and just do a lot of shopping in general -- in-store and on-line -- and value convenience above all else, including price?
That's where retailers need to look at themselves. Who are their Baby Boomer shoppers? What are their motivations and how do they divide their shopping time between screens and brick-and-mortar?
Generations own different motivations for choosing retailers. Younger generations care about values and social issue.
44 % of millennial parents will only shop brands and retailers that reflect their social or political values (

Accenture

).
75 % of Gen-Z want companies to take a stand on issues they care about such as sustainability, transparency and fair employment practices.

(

Accenture)
Meanwhile, "the ability to touch or try on an item before purchase is the #1 reason U.S. consumers shop at brick-and-mortar stores across all generations. However, nearly 2X more Baby Boomers (45.44 percent) cite this as a reason in comparison to Gen Z (27.88)," according to
CMSCMedia.
Yet younger shoppers enjoy the experience more. Forty-five percent of Millennials and 41 percent of Gen Z told a Colloquy survey that "shopping is a great way to relax," compared to 33 percent of Gen X and just 27 percent of Baby Boomers.
Further, according to Colloquy, "Millennials [33 percent] are the only group that has reported making impulse purchases very often and without thinking, indicating they are emotionally motivated." Boomers were the least likely (13 percent), while Gen Z and Gen X came in at 24 and 23 percent, respectively.
Emotions swing both ways, of course. Younger adult shoppers aren't shy about reporting bad shopping experiences on social media. Thirty-four percent of Millennials said they'd done this, compared to 27 percent of Gen X and 19 percent of Baby Boomers (Colloquy).
While most of this reporting takes place on Facebook and Twitter, it's important see recognize a social media shift ahead, as Piper Jaffray reported that 73 percent of teen shoppers use Instagram while only 12 percent use Facebook.
Further, not only does Gen Z like technology and brick-and-mortar stores, 84 percent said they intentionally structure their shopping trips as a social activity with friends (Retail Assist). And, of course, social media is a part of that.
The overall takeaway?
Retailers need to know their customers and anticipate their preference shifts. They need to design customer experiences to meet their shoppers wherever they are, however, they want to browse or transact business. And they need to aspire toward creating a seamlessness between brick-and-mortar and digital channels that is inviting to all generations.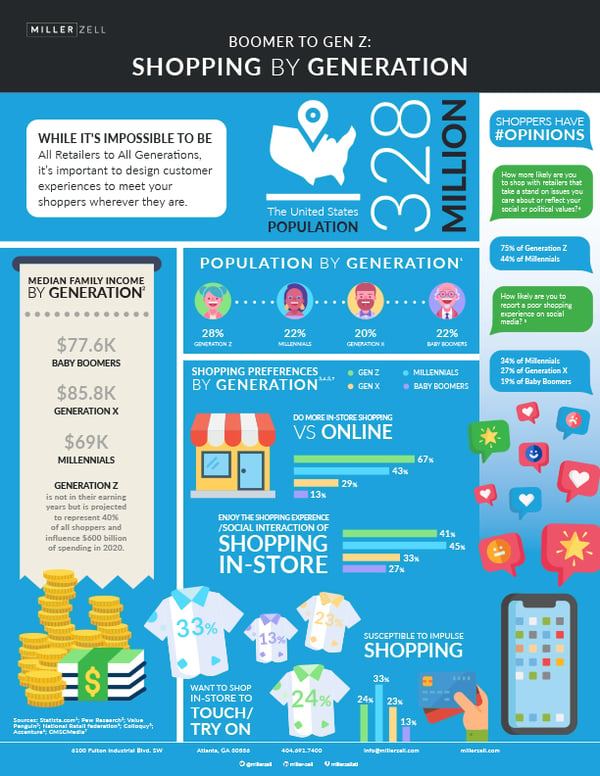 End-to-end branded environment services under one roof to craft the optimal customer experience wherever people gather, shop or learn.
Subscribe for monthly updates