Euroshop 2020: A Retail Tour
Euroshop 2020: A Retail Tour
A crew from Miller Zell attended Euroshop 2020 in Dusseldorf and came away inspired by the potential for innovation in brick and mortar retail. Not only did the February event showcase impressive new technology in its 17 buildings, it also presented digital offerings that are more purposeful and more affordable than ever before.
What's more, Euroshop also offered attendees opportunities for retail tours around Dusseldorf and nearby Cologne. While there was a lot to see from 2,300 exhibitors from 57 nations and nearly 100,000 guests, our associates feel most at home inside real stores with real customers.
Though our Cologne tour was mostly waylaid by a million spectators in town for the Rose Parade – the climax of the Cologne Carnival, one of Europe's largest street festivals – there was plenty to see in Dusseldorf.
Here are some highlights.

Lecia manufactures high-end cameras and lenses. The store atmosphere is fashion-forward but also inviting. Smooth concrete surfaces with narrow, recessed LED strips, black painted product walls and a poured Pandomo floor provide a spare setting for cameras and accessories on approximately 270 meters over two floors. The Leica Gallery on the basement level features photography exhibitions.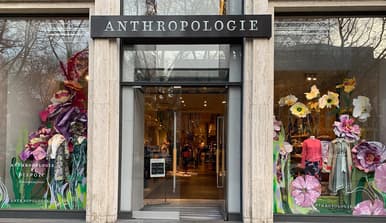 The Düsseldorf flagship store of this prestigious lifestyle brand was the first for Anthropologie in Europe. It offers women's clothing, shoes, accessories, home furnishings, furniture and gifts on 950 square meters of retail space. The ambience is enhanced by live plants and ethno-style elements, with wooden and metal shelving. The window displays are notably beautiful, and the curated, in-house merchandising is both consistent and visually arresting.

The new store concept aims to overcome the boundaries between the online and offline worlds. Customers are greeted by an LED wall with interactive projections. The Italian-style interior features a terrazzo floor and coffered ceilings.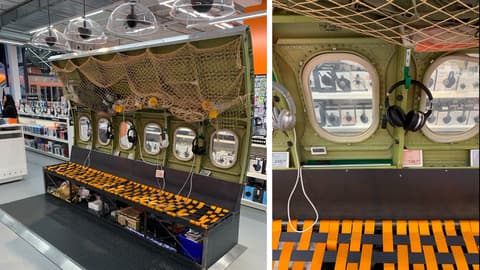 Saturn is a big-box electrics retailer. Customers enter the five-story, 6,500-square meter sales area via a digital LED walkway, and the store merchandizing is pristine. A standout is a noise-canceling head-phone testing station. The display is part of an original 1979 DC-9 airplane cabin and an "action world" with a drone flight cage. This flagship store puts experiencing technology front-and-center.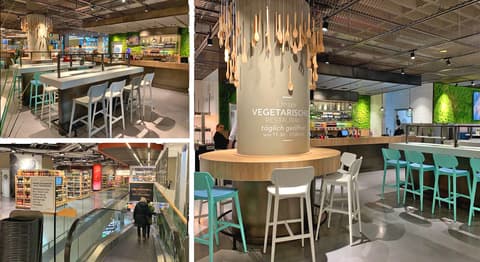 Edeka Zurheide (Grocery)
With a total retail space of more than 10,000 square meters, some 60,000 articles and several restaurants, Zurheide presents a variety of departments with its own products and specialties. The market indulges its customers with a patisserie, hand-made pasta and bars offering ham, premium beef and champagne. It also offers a self-contained farm that grows herbs and is offered to customers as a subscription service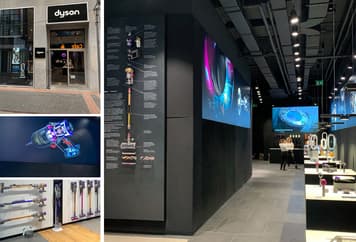 Dyson Demo store/Cologne
"Dyson Demo Cologne" is this technology company's first store in Germany. Trained staff help consumers become acquainted with the products and more familiar with the technology. Dyson's intention with this store is to better position itself as a manufacturer of high-end products. The graphics and displays help you not only understand why Dyson makes such effective vacuum cleaners, customers also can try out various models on different floor surfaces, as well as use a variety of materials you might need to vacuum when they mess up your floor.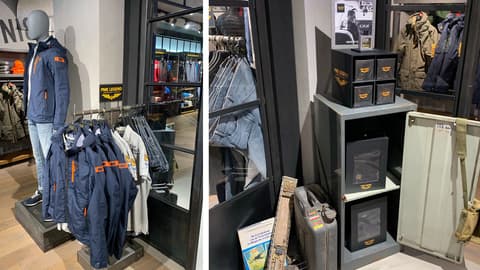 The Düsseldorf outlet of the Dutch men's fashion brand PME Legend is the company's second in Germany, following the store in Oberhausen. The collections, inspired by the outfits of American cargo pilots, are displayed along with backlit images of cargo airplanes on a retail space of about 350 square meters.

Urbana
Urbana started out as an online store and, after two showrooms, opened its first physical sales outlet in Düsseldorf in 2016. The seven product groups of the online store are represented in distinct sales zones. Earthy colors and a mix of materials including marble, cement and wood form the backdrop for the products. These are home goods merchandized like they are in a cool apartment.

In this tenth German signature store of the Australian cosmetics company, the tiered, semi-circular arrangement of bespoke shelving in Douglas pine is reminiscent of an amphitheater. The key feature is a concrete washbasin that stands in the center. Aesop makes a special effort to integrate its stores into the fabric of the street.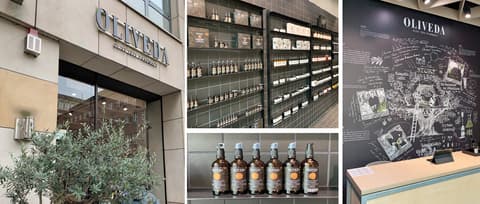 The name of this German cosmetics brand is reflected throughout the 60 square meters of retail space. The entire interior design is based on the color of black olives. The ceramic tiles on the walls, floor and counters were custom-manufactured in a tunnel kiln and combined in the store with zinc and birch wood elements.
Other highlights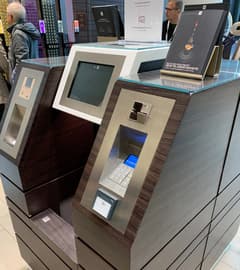 Nespresso: Cool self-checkout where customers don't need to scan.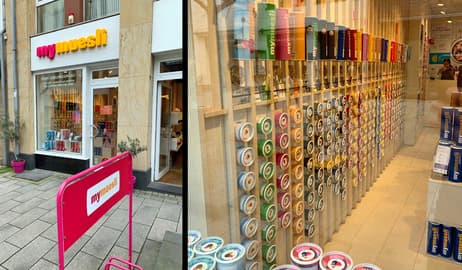 My Muesli: Colorful shelves and a visually interesting space for self-serve cereal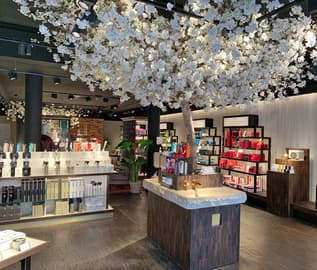 Rituals: Design incorporates realistic-looking tree both inside and outside the retail space.
Euroshop and our store tours only further confirmed the importance of an obsessive focus on customer-centric retail innovation. Retailers must view strategy, design, digital adoption and merchandizing through a holistic lens that connects brand and customer.
If you're interested in chatting more, drop us a line. We're always eager to discuss innovative retail solutions.
End-to-end branded environment services under one roof to craft the optimal customer experience wherever people gather, shop or learn.
Subscribe for monthly updates